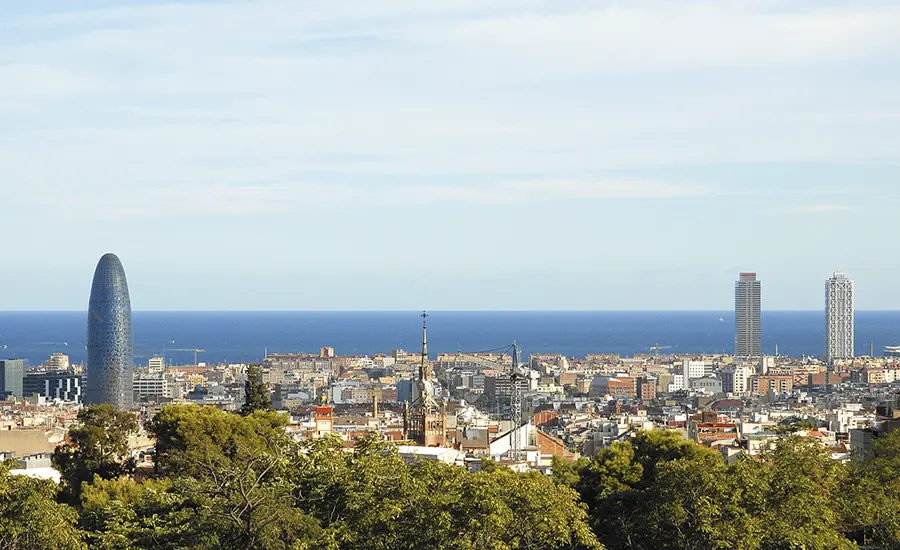 The best golf routes in Barcelona
Barcelona is the perfect destination for a golf trip with family, friends or individually. The Barcelona Golf Courses Association or Barcelona Golf Destination makes it easy for you by bringing together the 7 best golf courses in the city on a single website.
On this website, travelers can find routes, offers and all the information necessary to organize the best golf getaway in Spain.
One of the advantages of coming to Barcelona on a golf vacation is that it has an international airport, the Barcelona – El Prat Airport, where flights arrive from practically anywhere on the planet. Thus, it is very easy to access the city and its different golf courses.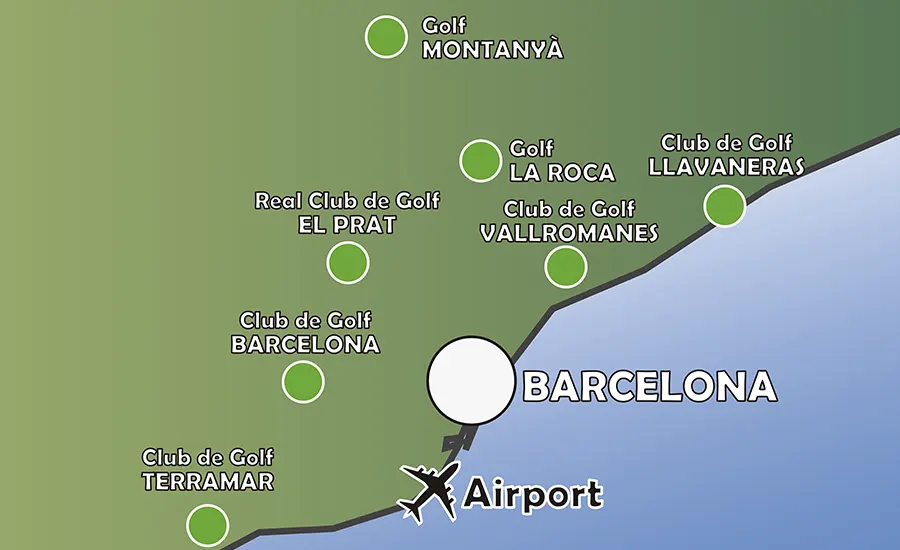 Another access route to the Barcelona Golf Destination golf courses is the Girona-Costa Brava Airport. A beautiful city worth visiting for its history and culture, with places such as the cathedral where scenes from Game of Thrones were filmed. Although we recommend flying to El Prat Airport, from Girona you can visit the closest golf courses such as Club de Golf Montanyà, Club de Golf  Llavaneras, Club de Golf Vallromanes or Golf La Roca.
In Barcelona there are seven golf courses and they are located in a ratio of 50 kilometers from the city of Barcelona: Real Club de Golf El Prat, Club de Golf Terramar, Club de Golf Llavaneras, Club de Golf Vallromanes, Golf Barcelona, ​​Club de Golf Montanyà and Golf La Roca.
Each course is special and has its charm, so choosing Barcelona as a golf destination is an excellent idea since you have several combinations to see different and unique golf courses.
A fantastic and comfortable option is to use the Golf Pass, a solution that the Barcelona Golf Destination presents to you. This Pass gives you the opportunity to choose between two golf packages: 3 courses or 5 golf courses. In this way, the player arrives in Barcelona with an organized trip at a better price.
Also, the Golf Pass is a flat rate model to play on 3 or 5 courses. When acquiring the Golf Pass, the player can quickly choose the rate and the courses and be able to book the departure 48 hours in advance. Without a doubt, an easy and fast way to get to know the different courses in the area during those long-awaited golf vacations.
With the Golf Pass, reserving a time will be very easy and fast. Whether you choose to play in 3 or 5 courses, we bring different routes that can help you organize your trip. A good option is, from Barcelona, ​​to play Club de Golf Terramar and enjoy a day at the beach in Sitges. From there, you can play Golf Barcelona and enjoy its Resort at the foot of Montserrat mountain or enjoy a wine tasting in the area. Finally, visit the Real Club de Golf El Prat and its courses designed by Greg Norman to wrap up a magnificent route. The best option with this route is to stay in Barcelona, in a high-level hotel such as Hotel La Florida.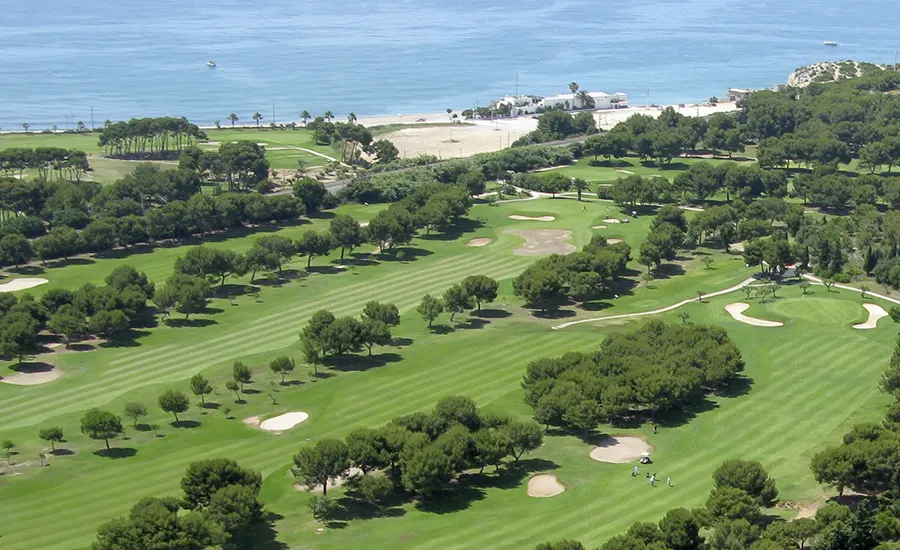 If you prefer to travel along the Mediterranean coast, an ideal route is Club de Golf Vallromanes, Club de Golf Llavaneras and Golf La Roca. The three courses, especially Llavaneras, are very close to the Maresme coast, a few kilometers from the beach. We think it is an excellent plan to be able to play in the morning and then enjoy an afternoon at the beach with a drink at its beach restaurants. Close to the courses there are excellent hotels such as Aqua Hotels, Hotel Kaktus 4* or you can also rent a luxury apartment at Santa Romana 4*.
Choosing the 5-course pass is also a good option. For example, you can start with Golf Barcelona followed by the Real Club de Golf El Prat. After these two courses, we approach Club de Golf Vallromanes and Club de Golf Llavaneras along the coast. To finish the route, Club de Golf Montanyà is an ideal choice. In this area, you can also enjoy its typical Catalan gastronomic offer in one of its many restaurants before returning to Barcelona.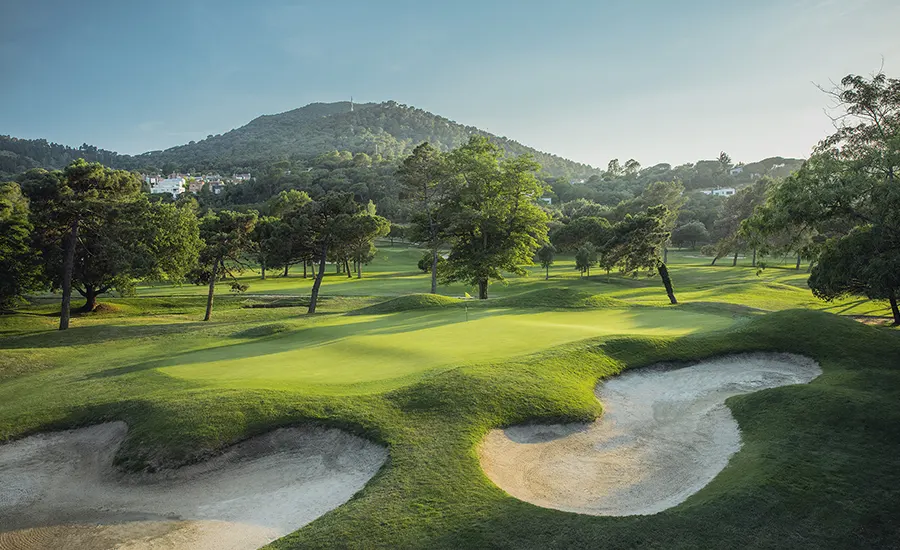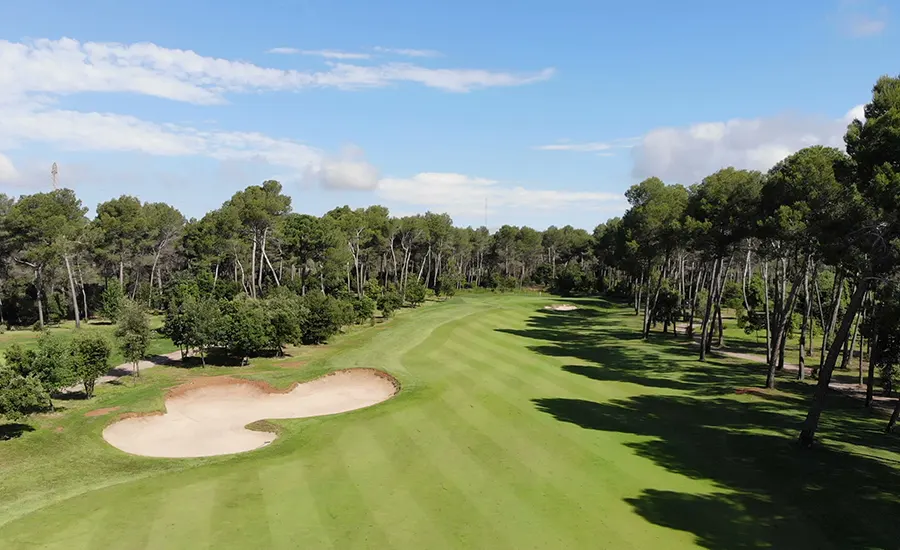 Organize the best golf holidays in Barcelona
With the Barcelona Golf Courses Association, the Barcelona Golf Destination, organizing your golf holidays in one of the most cosmopolitan cities in the world is easy. If the routes that we have presented do not convince you, you can choose other combinations of hotel and golf pass to suit your needs. Enjoy organizing your trip thanks to the facilities that our website offers you!