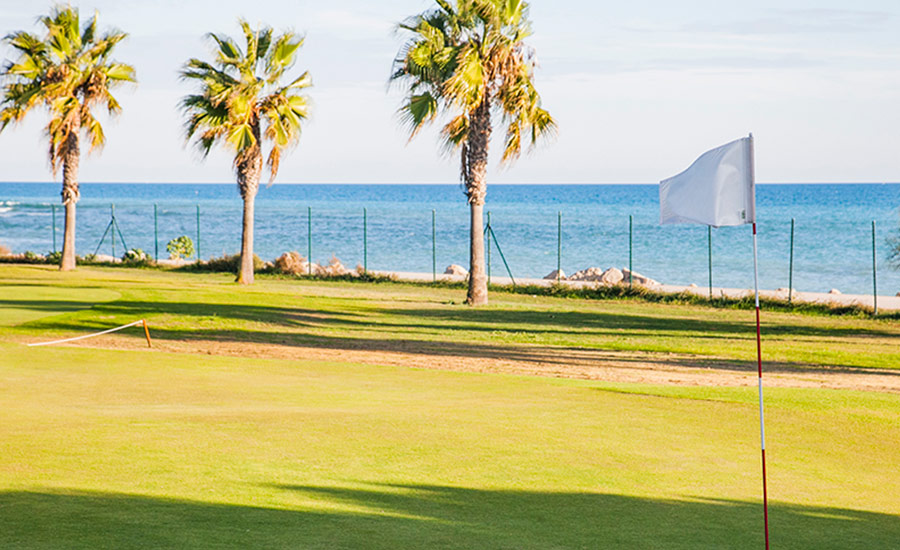 Golf holidays near the Barcelona coast
Golf holidays near Barcelona
If you thought that a golf vacation near the sea in Barcelona was not possible, you still don't not know about Terramar Golf Club. It is one of the oldest golf courses in Catalonia, with a lot of history, in a privileged environment that is part of the Catalan "Costa del Sol".
Terramar Golf Club opened in 1927 with just 9 holes. Since then, the Club has been expanding, adding changes and building character until it is the course we know today. A gem near the Mediterranean Sea, designed by great experts like H.F. Hawtree and right next to the beautiful town of Sitges just 35 km from the city of Barcelona.
Terramar Golf course is a perfect golf course for families and suitable for all handicaps. Along the course you will find bunkers, occasional lakes, greens with tricky breaks, beautiful fairways hit by a sea breeze and fun holes where the longest hitter will find that, with accurate precision, they can sign a good result.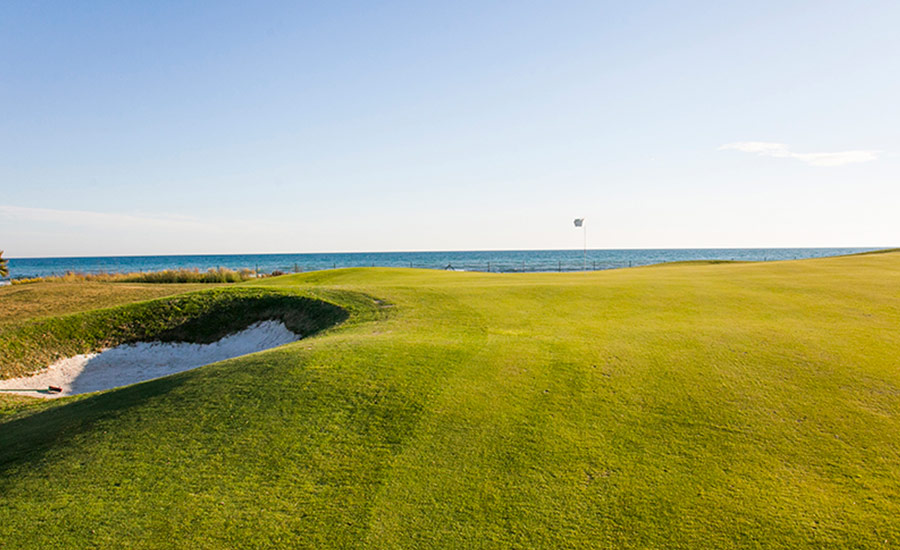 An 18 hole golf course, par 71 course, very pleasant to walk as it is characterized by its level ground surroundings and its rich fauna.  But we have to pay special attention to the most beautiful par 3 in Catalonia. This is hole 3, El Mediterráneo, with 181 meters from the white tee box, is undoubtedly a challenge for any player. This hole is right in front of the sea, which makes it difficult to get to the green due to the offshore wind and the bunker barrier in front of an elevated green. In addition, the links-style hole has one of the largest and hardest green of the entire course. We can also highlight other holes such as number 15 (par 5), one of the longest with a dog-leg and a lake that guards the narrow green.
Terramar Golf Club also has a fine practice and short game area to practice your games as well as a pitch and putt where you can have fun in a different way. With these three holes of P&P you can gain precision and you will be able to encourage the youngest of the family to try golf in a safe and perfect area for them. In addition, the Country Club has a magnificent restaurant, a large terrace overlooking the golf course and the sea, a golf pro-shop, a full-equipped gym, tennis and paddle courts, a soccer field, club rentals, and a good fleet of buggies, electric and manual trolleys for their players. Without a doubt, it is a very complete Club for its members and visitors.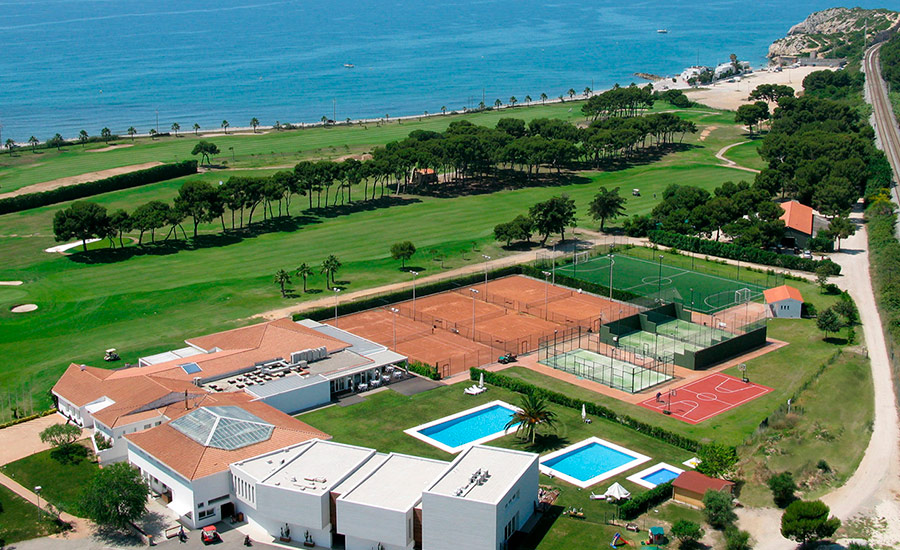 A golf course also for the professionals
In recent years, Terramar Golf Club has positioned itself notably on the European map thanks to the organization of a tournament belonging to the Ladies European Tour (2017-2019). The Estrella Damm Mediterranenan Ladies Open is a professional women's tournament that welcomed the best players on tour and showed that Terramar is prepared to play at the highest level. Together with the sponsorship of Estrella Damm – a beer company – the tournament was a success with thousands of spectators while broadcasted on different television channels.
But this was not the only time that Terramar Golf Club has received professionals. Many years ago, great pros like Severiano Ballesteros, enjoyed this golf course at the Individual Professionals Championship of Catalonia. So, if you want to test your game while enjoying the good weather in the area and exceptional views, this is your golf course.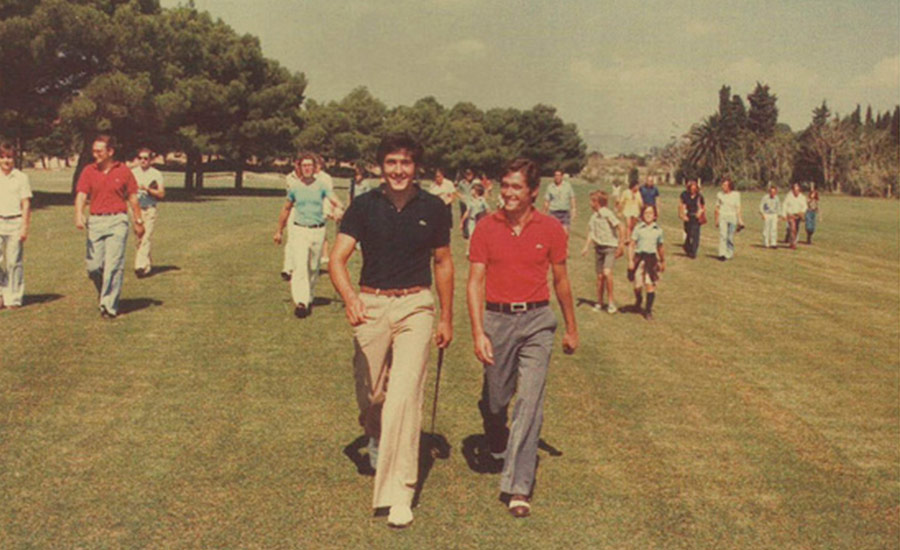 Sitges, a town for golfers
Sitges is a perfect destination to consider for those desired golf vacations. Located on the Mediterranean coast with wonderful beaches, restaurants, tapas, shops, culture and leisure, it stands out for its beauty, joy and great atmosphere throughout the year. In this joyful villa you will always find multiple activities on its agenda like cultural events, gastronomy, exhibitions and festivals such as the Fantastic Film Festival (October), its festivities (August) and the Carnival (February). In addition, you can always enjoy a walk along the seafront under the light that characterizes Sitges so much. And how to forget the Church of Sitges, also called La Punta de Sitges, one of the main symbols for its people.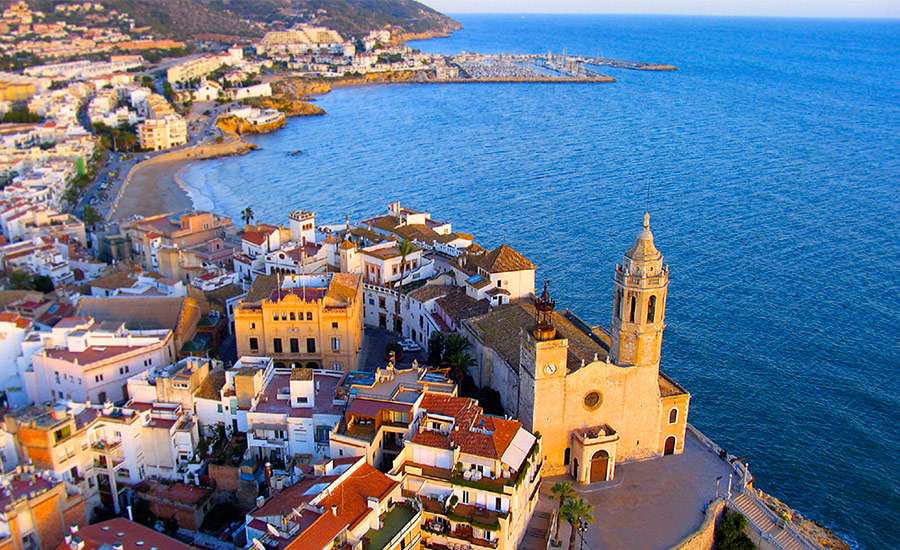 If you stay in one of the hotels that Terramar recommends on its website, you can enjoy all of this. Whether you come with family, individually or in a group, you will find a mild climate during winter and sunny days in the summer time so that, in addition to playing golf, you can try water activities or having fun with its great nightlife. Another good option is to stay in Barcelona since Terramar Golf Club is located near the city of Barcelona. In this way, you can also get closer to some of the other seven courses that make up the Barcelona Golf Destination.
How to book your tee time online
If you already know that this golf course will be the lucky one for your next vacation, you can book your tee time online through the Club's website. If you prefer, you can contact the Terramar team to organize your stay down to the last detail by email (info@golfterramar.com) or by calling 938 940 580.
We believe that Terramar Golf Club and its surroundings will make you fall in love with this area while enjoying a few days practicing your favourite sport.