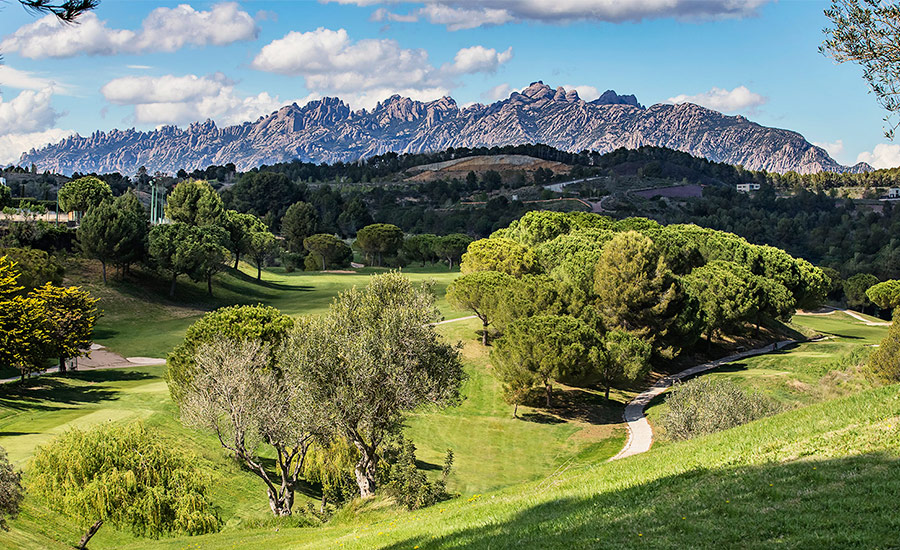 Golf breaks in Barcelona
A golf course near Barcelona
Your golf vacation can start with the letter B. B as in Barcelona, ​​as in Best golf course in the area and as in Club de Golf Barcelona, a golf course just 20 minutes south of Barcelona but in the countryside.
The most spectacular thing about Golf Barcelona is its impressive views of the Montserrat Mountain. Main symbol of Catalonia, Montserrat is an unprecedented mountain that will leave you perplexed by its original abrupt silhouette. In addition, from almost any where in the course, you will see this mountain range above a large pine forest.
Something curious about this Club is that at first it was called Club de Golf Masía, soon after it evolved into the Club de Golf Masía Bach and finally adopted its current name. A golf course with history that opened in 1989 and last year marked its 30th anniversary.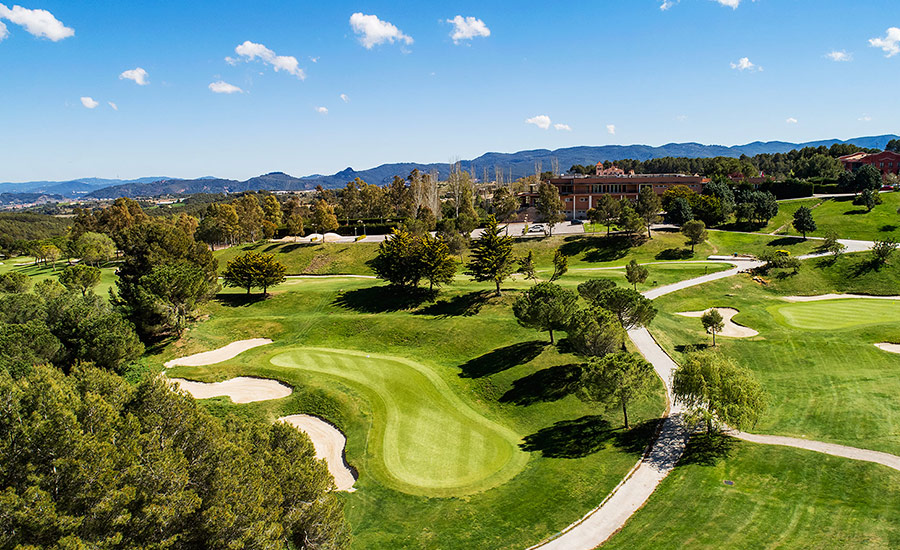 The 18-hole (6,271m), par 72 course was the first course designed by José María Olazábal, a great golf pro of our times. It is considered a varied and demanding course for any handicap player and even professionals. In 2007 the Catalonian Ladies Masters, belonging to the Ladies European Tour, took place. As for the men, the course hosted some Tour Peugeot Nacional tournament, a men's tour that no longer exists but had a great impact among national professionals.
When it comes to the best holes, we can highlight hole 8, a par 4 of 343 meters from white's that will test your tee shot. The narrow fairway with a lake on the left and out of bounds on the right will require a good strategy. The most daring player will play a fade long shot to get closer to the green while the more cautious ones will even use an iron to put the ball into play, leaning on the right side of the fairway avoiding water. But that is not all; the second shot is not easy either because a narrow green will receive it, with two bunkers to the right and a front water hazard. Without a doubt, it is one of the best holes.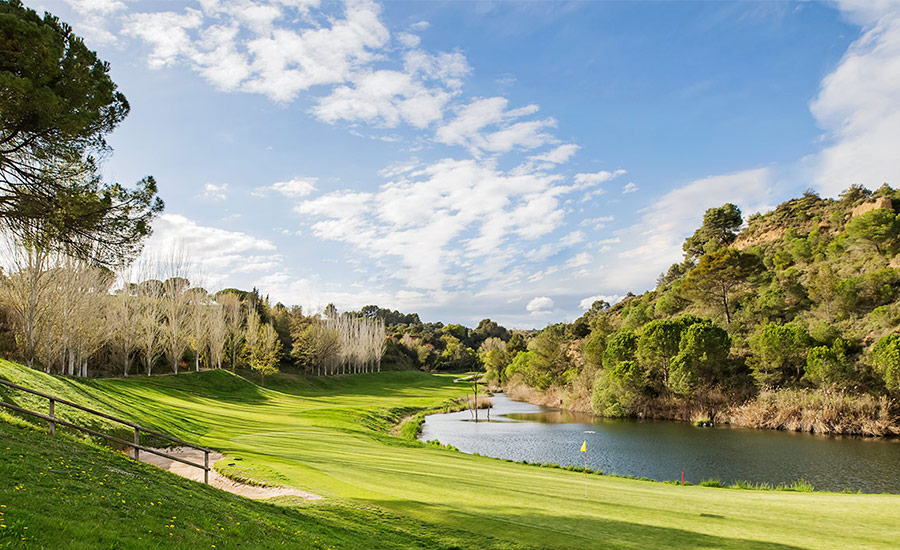 The Club, in addition to the 18-hole course, has a 9-hole course called San Esteve, par 31 (1780m). In it, the player will be able to put his short game into practice but also the longest game with its par 5 and par 4. Therefore, there is the possibility of playing 27 holes in the same Club.
Services at Club de Golf Barcelona
Club de Golf Barcelona not only has its golf course, but many other services. To complement it, the Club has paddle tennis courts, a fun sport that has recently become very famous in Spain. Of course you will also find a large driving range where you can practice your swing, as well as a good approach, bunker and chipping area. To improve the putt, Golf Barcelona has two practice greens.
In addition, the Club's golf school is getting stronger with the introduction of a new swing analysis system and a great high-level program for the most gifted young players, led by Carlos Vivas. For children and adults there are also classes, with a wide variety of schedules and prices.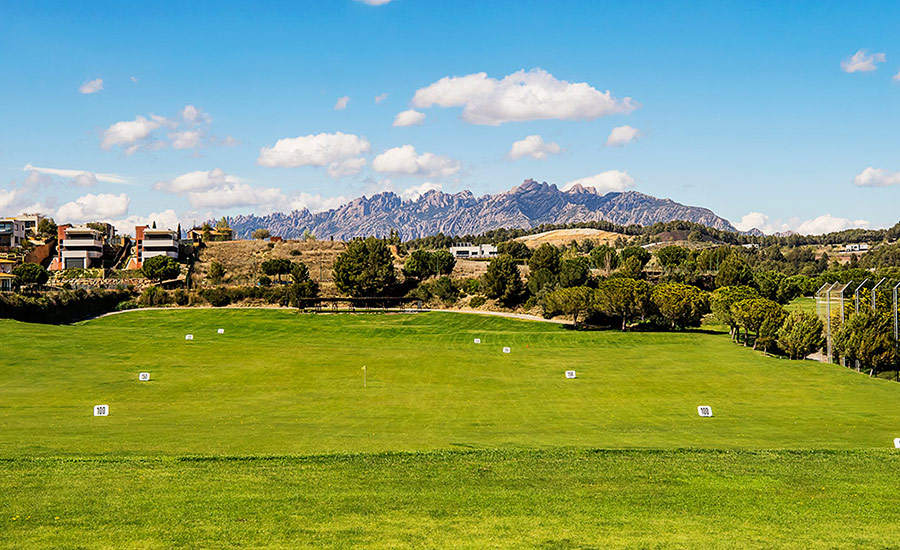 On the other hand, you can enjoy Catalan cuisine in its restaurant and terrace with great views. There are also changing rooms, a swimming pool to face hot summer days, a golf shop to acquire the latest golf technology and a large fleet of buggies, motorcycles, electric and manual trolleys to rent.
A 4 * hotel within the golf course
Another reason for choosing this golf course is the fact that the Club has an hotel waiting for all its visitors. The Hotel Barcelona Golf was renovated in 2019 so that the golfer would find all the comfort in a modern setting 100 meters from the golf. At the hotel you can relax in its spa and outdoor pool or get fit in its gym. It will be a comfortable vacation and only 27 km from Barcelona.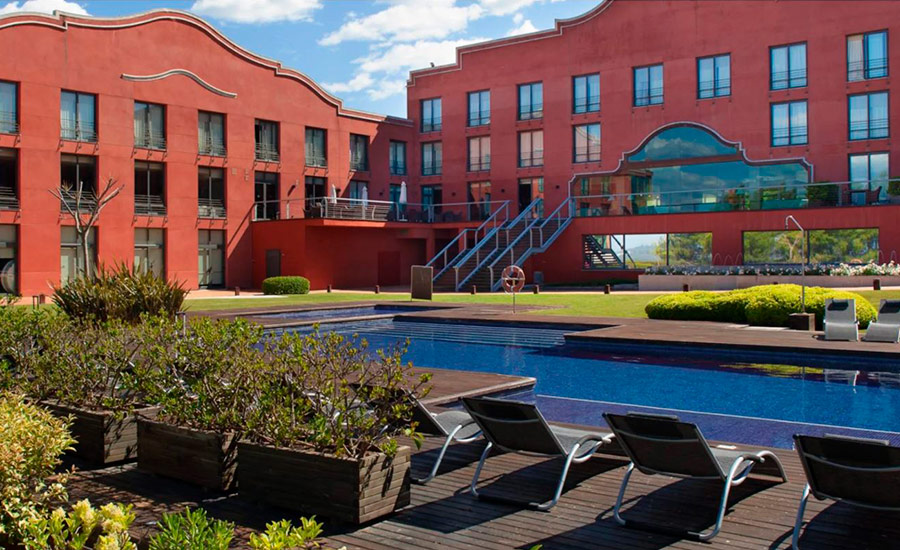 And, precisely, since Golf Barcelona is so close to the big city, you can complement your vacation with a visit to Barcelona where you will find all the activities you can imagine, and more.
But what really will make you want to come are the surroundings of this golf course. If you are a good wine lover, this area at the foot of Montserrat is known for its vineyards and its exquisite product. You will be able to do tastings of the different types of grapes used to create their wines, make 4×4 routes, go horses riding or, of course, visit the Montserrat Monastery.
And now, easier than ever, you can book your tee time online or by contacting the booking department to organize your desired golf getaway in Barcelona.